WA's Alfresco Kitchen Experts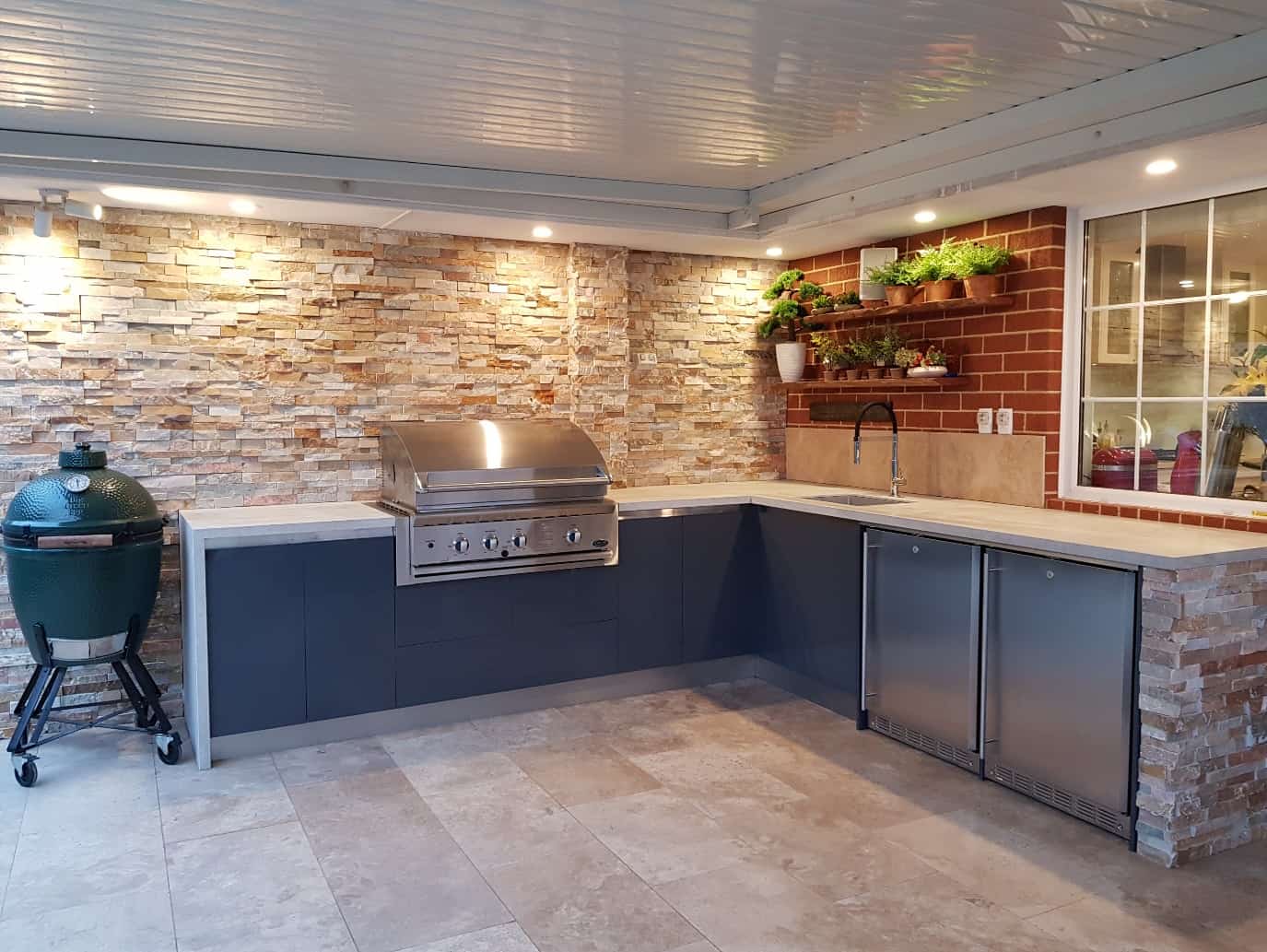 Pyro Designs have Alfresco Kitchens designed to suit our unique WA lifestyle.
WA and Perth are well suited for outdoor living and entertaining.
What sets Pyro Designs apart from other outdoor kitchens is that their kitchens are specifically designed for the Western Australian market.
Pyro Designs, Alfresco Kitchens are designed to withstand the extreme conditions typical of Perth and the Western Australian climate. They have found products suited for outdoor use and that require little to no Maintenance.
Pyro Designs has products and kitchens that out-perform other options and look modern and stylish.
All Pyro Designs outdoor kitchens are fully customisable. There are no restrictions on designs to suit your outdoor area. You are not restricted to premade modular cabinetry and appliances. www.loans123.com.au can help you finance your alfresco kitchen.
You can live the ultimate outdoor lifestyle.
Your dream alfresco kitchen t can be reality.
Pyro designs will help you create the perfect alfresco kitchen to entertain friends and family.
Pyro Designs' kitchens are custom designed to suit your outdoor area and are manufactured in WA.
Pyro Designs use quality materials, that are weatherproof and suitable for under-cover and/or exposed to the weather.
All products are exterior grade, UV stable, waterproof and backed by warranties.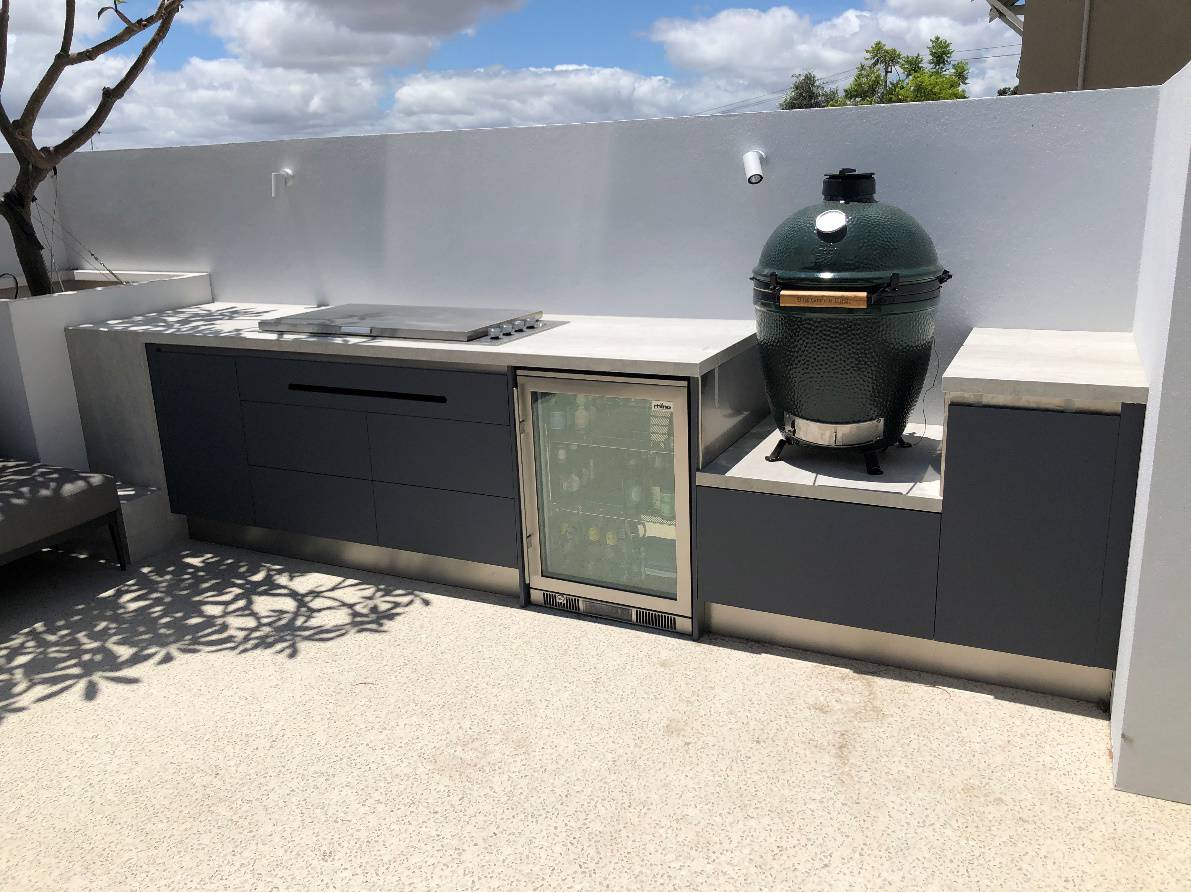 Pyro Designs want you to enjoy the design and build experience and deliver you the alfresco kitchen you have always wanted.
They will do everything possible to make it a simple process.
They have a team of outdoor kitchen specialists who can help you find ways to incorporate the features that mean the most to you.
Pyro Designs team is from Perth and have a long history of top-quality fit outs and a passion for great customer service. The team keep up with the latest kitchen design trends and products so that you get the best kitchen available.
An Outdoor Kitchen For Every Style and Space
If you want the ultimate outdoor kitchen or alfresco entertaining area, choose Pyro Designs. They use quality materials, have a proven track record, industry experience and great service.
This is the Pyro Designs difference.
A selection of the best materials so that you get the best kitchen possible,
An outdoor kitchen that will look great on completion and suit your lifestyle and will look great in years to come.
A Pyro Designs Alfresco Kitchen is easy to maintain, use and clean. it!
Pyro Designs' alfresco kitchens can be custom built to make the best use of your outdoor space.
Your cabinets are constructed using waterproof the materials.
Your alfresco kitchen can be installed under-cover or exposed to the elements without the risk of damaging your new alfresco kitchen.
Your new cabinets have a seven-year manufacturer's warranty.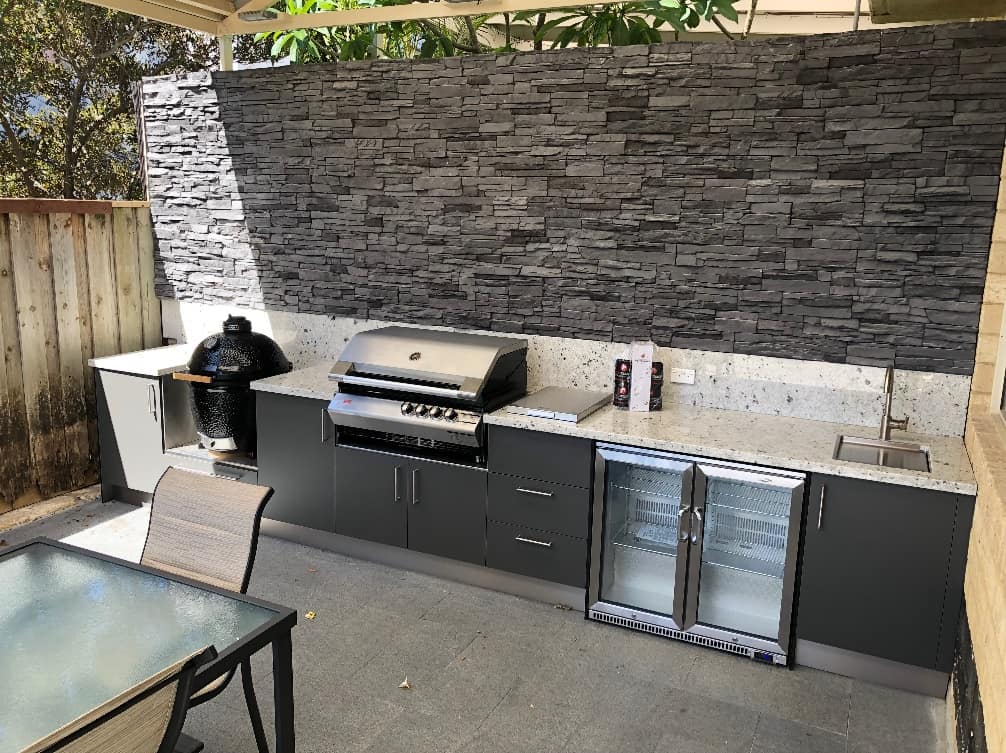 Pyro Designs have a choice of materials to select from for your external panels in your alfresco kitchen.
They all have warranties for use in an outdoor application and come in a choice of styles and colours.
You have a wide choice of benchtops.
From Natural stone and granite through to polished concrete and stainless steel or any combination these.
Barbeques, Fridges, Rangehoods and other appliances
The appliances used in your alfresco kitchen need to be suitable for your entertaining and cooking needs.
Pyro Designs take into consideration the style and location of your alfresco kitchen when making recommendations regarding your appliances.
Pyro designs can supply all types of alfresco kitchen cooking and other appliances and will happily incorporate appliances that you may choose yourself.
Splashbacks are popular and enhance the appearance of your alfresco kitchen.
A quality splashback will often "complete" the look of an alfresco kitchen project.
You can choose your splashback from painted glass, digital art, granite, stone, stainless steel or a tiled finish.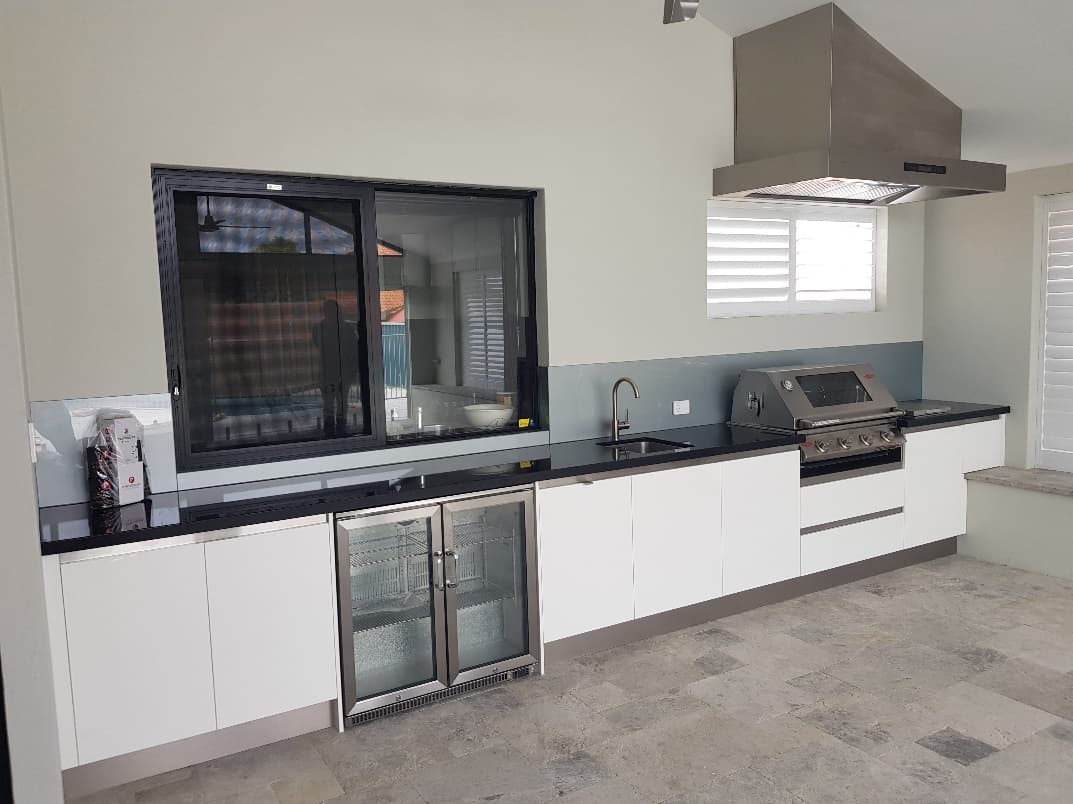 Pyro Designs Mission Statement and Values.
It's our mission to create stunning alfresco kitchens that stand up to weather and become the heart of an outdoor space, somewhere you can create special memories with your family and friends
Pyro Designs are passionate about helping you to create an amazing alfresco kitchen to enjoy and be proud of. Our mission and values sit at the heart of everything we do.